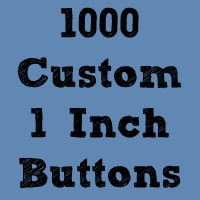 $

180.00
Custom 1" buttons for your band, business, event, etc...
Buffalo, NY orders: email me at bitpartbuttons@gmail.com before ordering if you want to arrange pick up and avoid shipping costs.
You are ordering 1,000 custom 1" buttons, fully assembled. They can be Black and White or Full Color at no extra cost! You can have up to 50 (yes, fifty!) different designs per order.
Please format your artwork using this template: Right Click to Download Template
The inner circle is a guide for what the face of the button will look like. The outer circle is the bleed edge and will be what the edge of the button will look like so feel free to let color bleed into that area (buttons look better that way). Some people also like to put websites/text in the bleed area, but they don't always come out right so be warned!
If you don't have the ability to format your artwork, email me (bitpartbuttons@gmail.com) an image that is at least 1.3" x 1.3" at 300 dpi and I will format it for you. This will increase the turnaround time and may be subject to a small design fee if it isn't easy.
All orders will be finished and shipped/ready to be picked up within 7 days (sometimes much sooner). You will be emailed when they are ready/have shipped. If you would like a tracking number, insurance, or upgrade to priority shipping (US only), mention it with your order. Additional fees will apply.